Cattlemen's Steakhouse is a Fort Worth institution. Established in 1947 in the historic Stockyards district, the restaurant serves up an impressive menu of steaks and Texas classics (when was the last time you saw calf fries on the menu?). Dallas / Fort Worth Jeremy Enlow of Steel Shutter Photography photographed the iconic restaurant for the March 2017 issue of 360 West Magazine. If you're looking for a DFW restaurant photographer, Steel Shutter Photography has you covered. Contact Steel Shutter here to begin your free inquiry.
Telling a Story Through Food
Your restaurant's story has many pieces – such as its history, location, branding. The most mouthwatering piece of the puzzle, though, is the menu. Your food is what draws people in time after time. How do you get customers to come in for their first bite? With rich photographs of your best dishes. Steel Shutter Photography provides quality DFW food and restaurant photography. This photograph of a Cattlemen's steak entice the senses with warm lighting and a perfect glimpse of the steak's juicy sheen. The rolls look warm and buttery, and the entire image comes together to create a palate pleasing composition.
Since steaks are the main draw at Cattlemen's, the meat is always center stage. To showcase the quality product that the restaurant prepares, Jeremy captured this shot of the raw steaks on ice. The rich red color of the meat is framed against the glittering white background of ice. While the image is a bit jarring and unexpected, it fits perfectly with Cattlemen's larger story as an old time purveyor of great Texas steaks.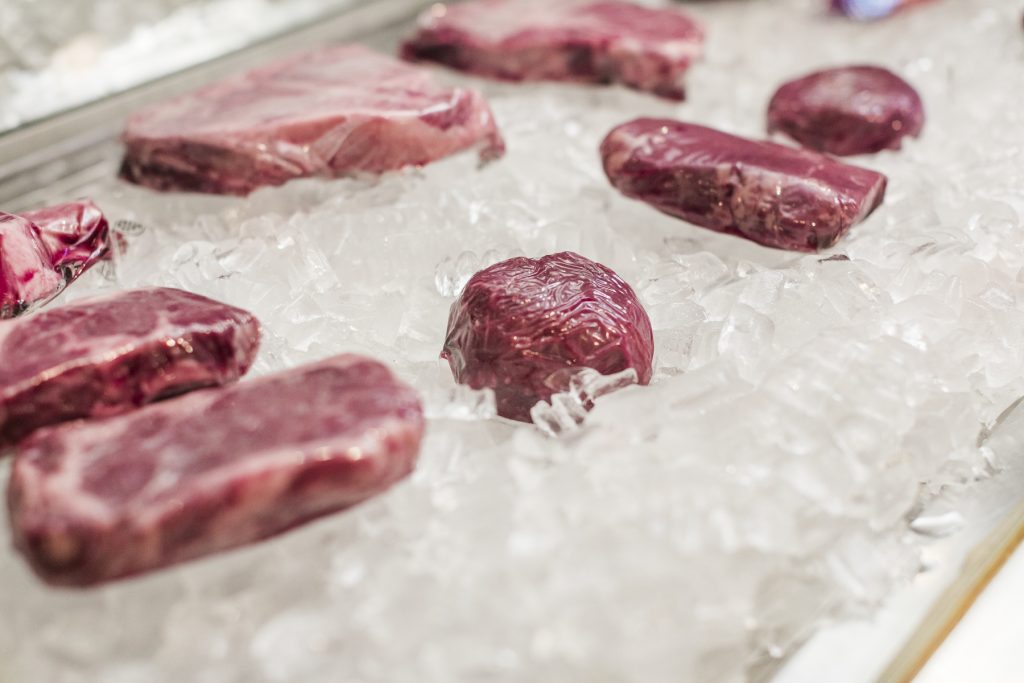 DFW Restaurant Photography for Your Establishment
Cattlemen's steakhouse was opened 70 years ago by Mozelle Roach and her husband. In 1994, Mozelle sold the restaurant to Marti Taylor, a regular patron of the restaurant. For this Fort Worth restaurant photography shoot, Taylor's portrait is framed by the doorway of the original restaurant building. This shot captures the present brand story of Cattlemen's while paying homage to its history.
Additional photographs show diners ordering food in the dining room. These are a great way for your restaurant to give customers a preview of what it's like to enjoy a meal at your establishment.
Get the restaurant and food photography your  Dallas / Fort Worth business needs. Contact Steel Shutter Photography today using the button below.
You may also be interested in: