From November 25 – December 24 the Jeremy Enlow Fine Art Photography Pop Up Gallery was open in the heart of Sundance Square. Featuring more than 70 fine art prints on aluminum, canvas, paper, and wood, the gallery was a unique shopping destination this holiday season! We had a great time bringing this pop up art shop into downtown Fort Worth and enjoyed meeting visitors from around the world. During the course of the gallery, we had visitors from six continents, numerous states and countries, and the pleasure of meeting many Fort Worth locals.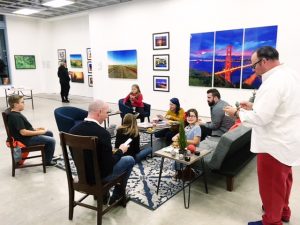 Good to be back
Earlier this year, Jeremy had a small pop up gallery in this space for Main Street Arts Festival. It proved to be a great success. This winter, the gallery expanded to 4,200 square feet and three artists. Jeremy brought back some favorite elements of the first pop up, though — like the kids' art station and plenty of water for Fort Worth's four-legged residents.
The holiday #EnlowGallery offered a great place to sit down, hang out, and talk about art with family and friends. Amidst the hustle of the holiday season, it was amazing to see so many people stop and linger to discuss the collections on display. Jeremy's collections included "Waggoner Ranch," "via," and "Cuba 2016." Special exhibits by Scott Walker and Jason Jones were also on display.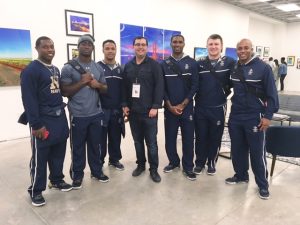 People of all walks of life gathered in the gallery, giving it a great community atmosphere. The Navy football team even dropped in while in town for the Armed Forces Bowl. It was fascinating to see how many international visitors Fort Worth gets. It's a popular city!
Three Texas Artists
This year, Jeremy invited local photographers Scott Walker (left) and Jason Jones (right) to join the gallery. Their collections were on display throughout the gallery. Scott's exhibit included photos of Iraq, pieces from his "Endangered" series featuring Texas ranches, and images of Fort Worth architecture. Jason's photographs, printed on paper and aluminum, included landscapes across the United States, from Texas to New England.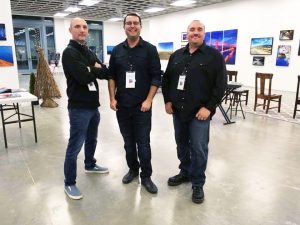 It was a great accomplishment to bring all of this work into Fort Worth for the public to enjoy, and it was an honor to work with these artists to pull it off.
Weekends at the gallery featured special events, including live music performances by Jeremy's kids. Reata also catered several Artist Receptions, which were incredibly popular (who can pass up Reata tamales?). These events gave people the chance to gather with friends, hear about the collections from the artists, and get signed copies of Jeremy's book Cowboys of the Waggoner Ranch.
The gallery closed on Christmas Eve, and Jeremy's on to planning his next project. We'd like to thank Sundance Square for making this gallery possible, all of the visitors who came in, and everyone who worked so hard to make this event fun throughout the month. It was a great time, and the perfect way to end 2016!
Follow Jeremy on Instagram @jeremyenlow to find out about future events and projects.