"Vision is the art of seeing what is invisible to others." – Jonathan Swift
Ever wondered what a Steel Shutter photoshoot looks like behind the scenes? During a recent shoot in the Fort Worth Stockyards with The Herd, we captured everything that goes into capturing the perfect image. Check out the amazing time lapse video at the end of the post!
Steel Shutter photography captures the moments that matter for you and your clients. For this shoot, the longhorns from The Herd in Fort Worth posed for crisp new portraits. The modern images capture the spirit of the Fort Worth stockyards in a fresh way. Jeremy Enlow loves to photograph Fort Worth, and his work has been featured in 360 West and Fort Worth, Texas magazines.
Related post: See Jeremy's photographs of Texas in Black and White here.
Location, Location, Location
To capture the longhorns' portraits, Jeremy constructed an 18 foot sweep (seamless background) right in the Herd's barn. Photographing the longhorns in their home put the subjects at ease and added an authentic dimension to the images – important considerations in any photoshoot. Local celebrities, the longhorns posed for the camera with ease.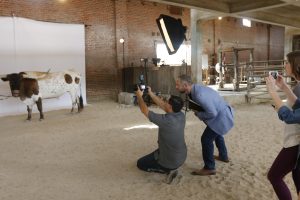 The crisp white background allows the longhorns to take center stage, without any distraction from the textured brick walls of the barn. The organic movement and texture of the barn's sand floor adds context and visual dimension to the shots.
Jeremy Enlow of Steel Shutter photography specializes in taking photographs in locations with unique demands, including hospitals, on-location shoots across the country (or globe!), and sports events. With more than 36,000 images published worldwide, Jeremy brings experience and skill to your photoshoot.
Getting the Perfect Shot
Photography, like any art, requires a great deal of experimentation and creative vision. Jeremy got on the ground to capture the longhorns' best angles. The four-legged subjects weren't too thrilled to have someone laying down with a camera in front of them, so their handler stayed nearby to keep them calm. In the end, the angle was just right and well worth the extra effort.  
Pulling off great shots like these is rarely easy or neat work, but it's always worth it. Trying out new ideas and ways of capturing images is central to Steel Shutter photoshoots. Follow Jeremy on Instagram @JeremyEnlow for more behind the scenes shots. There, you can see the unique perspectives and techniques he employs in his work.
These longhorns' portraits turned out so well, aluminum prints from the shoot have been on display at Jeremy's pop up gallery in Fort Worth.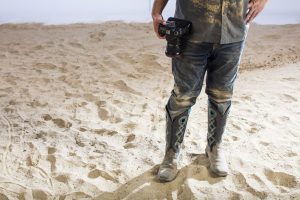 Putting it All Together
You can see how the shoot came together from start to finish in this timelapse video. From constructing the 18 foot sweep to each longhorn's closeup, we're showing you it all.
Ready for your Steel Shutter photoshoot? Contact Jeremy using the button below to begin your free inquiry!