This spring, Jeremy Enlow has packed the calendar with photography events in North Texas. From galleries to book signings, there is something for everyone! In March, Jeremy kicked off the season with a VIP Cuba gallery event at Elaine Turner, showcasing images from his 2016 trip to Havana. He ended the month by attending Cowboy True in Wichita Falls, where he took home photography awards for the second year in a row.
Don't miss your chance to see great art and meet Jeremy in person! Add these upcoming events to your calendar.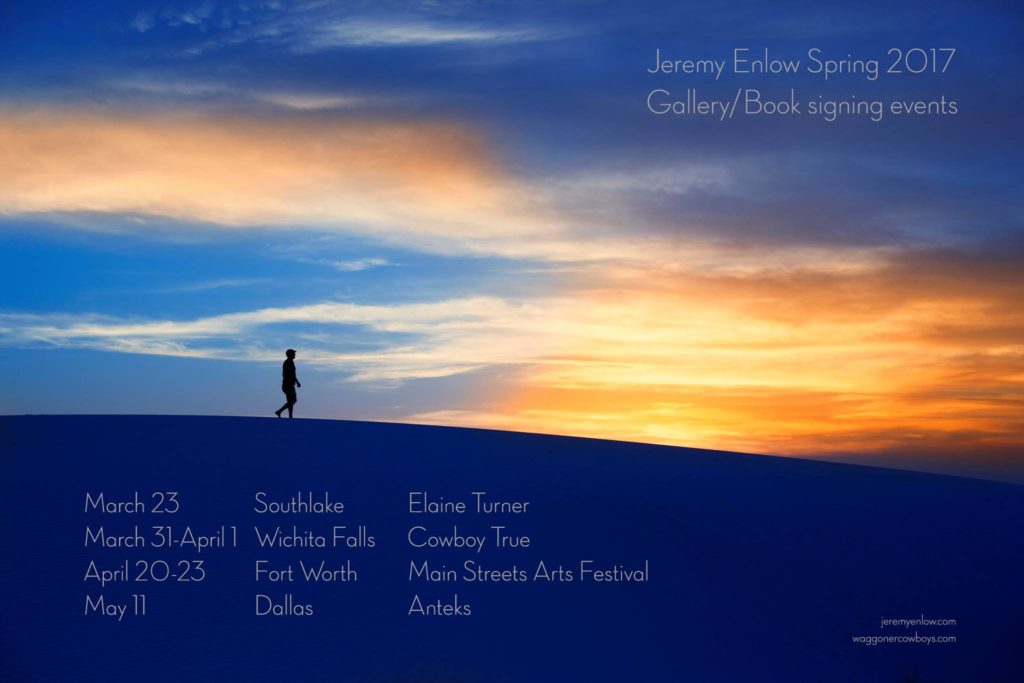 Main Street Arts Festival
 April 20-23 |Open 10 a.m. daily | 400 Houston St., Fort Worth

Come out to Main Street Arts Festival in downtown Fort Worth for an exciting selection of art, food, music, and events. Ranked as one of the top 3 juried art festivals in the country, Main Street Arts Festival is free to attend. There will be free musical performances by Bettye LaVette, Dave Alexander, Doyle Bramhall II, and more — plus a show by the Acrobats of Cirque-tacular!
The Jeremy Enlow Fine Art Photography Gallery will be opening at the corner of 3rd and Houston Street throughout the event. An exciting selection of fine art prints will be on display. The gallery will also be hosting kids' art activities, special events, and book signings of  Cowboys of the Waggoner Ranch. At 4,000sf of air conditioned space with plenty of room to relax, we offer a great place to get out of the crowds and enjoy local art. You won't want to miss this exceptional event! 

Pro tip: Bike valets will be available for those looking to beat traffic and skip the hassle of parking! More info on the Main Street Arts Festival Bike Valet here.
Full event details available here.